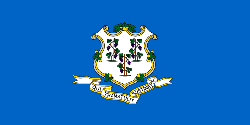 Connecticut
"Constitution State (official, 1959); Nutmeg State"
Motto

Qui transtulit sustinet (He who transplanted still sustains)

Capitol

Name Origin

From an Indian word (Quinnehtukqut) meaning "beside the long tidal river"

Statehood Date

Jan. 9, 1788 (5th)
Cities in Connecticut
NOTE: Not all cities are displayed. Please narrow your selection by using the search above.
Official Symbols
A state's official symbols represent the composition and culture of the land and people who live and have lived here. Below are the symbols of Connecticut along with the year they became official.
| | |
| --- | --- |
| Flower | Mountain Laurel (1907) |
| Tree | White Oak (1947) |
| Animal | Sperm Whale (1975) |
| Bird | American Robin (1943) |
| Hero | Nathan Hale (1985) |
| Heroine | Prudence Crandall (1995) |
| Insect | Praying Mantis (1977) |
| Mineral | Garnet (1977) |
| Song | "Yankee Doodle" (1978) |
| Ship | USS Nautilus (1983) |
| Shellfish | Eastern Oyster (1989) |
| Fossil | Eubrontes Giganteus (1991) |
| Composer | Charles Edward Ives (1991) |
Demographics
Population Density

702.9 people per square mile
Geography and Weather
Land Area

4,844 sq mi. (12,545 sq km)

Lowest Elevation

0 ft (0 m)

Average Elevation

500 ft (152.4 m)

Highest Temperature Recorded

106°F (41°C) on July 15, 1995

Lowest Temperature Recorded

–32°F (–36°C) on January 22, 1961